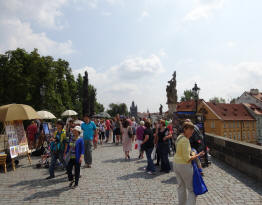 Few cities can match Prague's over-the-top romance and evocative Old World charm! Prague is equal parts history and fun. It is the only Central European capital to escape the large-scale bombing of the last century's wars and is one of Europe's best-preserved cities. Prague is filled with wonderful Art Nouveau facades, Mozart and Vivaldi concerts, and brews some of the best beer in Europe. As we cross the famous Charles Bridge we will commune with vendors, artists, tourists and a stoic lineup of Czech saints in stone. We will visit the wall around the world's biggest castle for a lesson in Czech history and enjoy sweeping views across the city's spires and domes. Along the way we will see the Outlander filming sites that will make you feel like you stepped into Jamie & Clare's 18th century Paris!
Prague has been the center for the Czech people for a thousand years. In the 1300s, when the Czechs' own ruling dynasty died out, Holy Roman Emperor Charles IV took over and made the city a world-class capital. Later, Habsburg rulers from Vienna embraced it as a second city of culture. They populated Prague with artists, writers and composers (most of them German-speaking) and added a Baroque layer (1700-1800), then renovated it (around 1900) in elegant Art Nouveau. When the age of empires ended, and the Czechs and Slovaks finally created their own nation (1918), Prague was the obvious choice as capital.
But after World war II, as a Soviet satellite, Prague had no money to modernize. The happy upshot is that when the city became free of communist rule in 1989, it emerged with its thousand-year ambience intact.
It is a photographer's delight. You will wind through walkable neighborhoods, past statues of bishops and pastel facades adorned with gables, balconies, lanterns. You will see many fascinating architectural details, including the famous Astronomical Clock, which for 600 years has been one of the greatest treasures of the city. It still amazes people with its procession of Apostles, moving statues and visualization of time like no other instrument in the world.
You might want to escape the crowds into the back lanes and pretend you are strolling through the 18th century. You might even duck into a pub to enjoy the hearty food and good pilsner beer, imagining Outlander's Jamie and Claire plotting to change Scotland's history!